People flock to Rome to see Caravaggio     paintings, Bernini sculptures and Raphael     frescoes but fast-forward your art     appreciation many centuries and there is     stunning modern art to be seen on walls and     buildings throughout the Eternal City.
Roman neighbourhoods such as Ostiense,     Pigneto, Garbatella and Tor Marancia burst with colour and creativity, with murals full of whimsy, wonder and wow factor. Here's where to find the city's best street art with tips on what else to do while strolling each neighbourhood.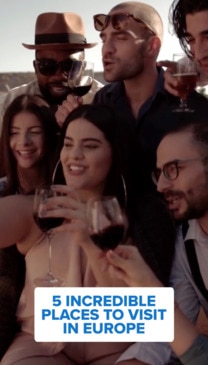 OSTIENSE
This neighbourhood, about a 15-minute cab ride south of Rome's historical centre, is street art heaven. Start on the corner of Via del Porto Fluviale and Via del Gazometro, where an apartment building is home to Hunting Pollution, a vibrant mural of a blue cormorant by Milanese artist Federico Massa (aka Iena Cruz). Cartoonish waves line the walls, while a big drop of water adorns each window shade. The mural was created with ecologically-friendly Airlite "smog-eating" paint which neutralises the effect of pollution.
On the same block is one of Ostiense's most celebrated works, by Italian artist Blu. It portrays 27 faces that wrap around a migrant hostel and cultural centre. The Wall of Fame on nearby Via dei Magazzini Generali is a long stretch of stencilled celebrity, featuring images of Barack Obama, Stevie Wonder, Spike Lee, Jimi Hendrix and more.
Venture a little further south and you'll find the easy-to-spot Gazometro, a giant decommissioned gas tank that is now the centre of a creative arts precinct. British artist Kid Acne's work Paint Over the Cracks lines one wall, along with Italian duo Solo & Diamond's striking comic-book women, one of them shooting laser beams from her eyes.
While you're here: Centrale Montemartini, a former power plant turned museum, has an incredible collection of classical sculptures set against the industrial infrastructure.
GARBATELLA
Bordering Ostiense to the north is Garbatella, a laid-back residential neighbourhood famous for its "lotti" – apartments clustered around courtyards containing gardens, vegetable patches and shared public spaces. The first piece of street art you see if you cross into the area via the Ponte Settimia Spizzichino is by German artist Clemens Behr, who turned the municipality's transport building into an abstract artwork.
Keep your eyes peeled and you'll spot many smaller unsanctioned works by French artists C215 (pensive stencilled portraits) and Invader (tiled works shaped like the classic Space Invaders video game alien). On Via Francesco Passino is a more recent mural that has come to represent the area – Solo & Diamond's Oh my Darling Clementine, a lush art-nouveau representation of 1800s tavern owner Clementine Eusebi. She was nicknamed Garbatella, giving this neighbourhood its name.
While you're here: After checking out the mural of 1940s partisan martyr Enrico Mancini in Piazza Bartolomeo Romano, stop for lunch at Bar Foschi, a much-loved bar that has been there since 1956.
PIGNETO
They call Pigneto the Brooklyn of Rome. But before the hipsters and cool bars moved in, it was a hotbed of revolutionaries and left-leaning politics. Maverick writer and filmmaker Pier Paolo Pasolini set much of his work here, including his classic 1961 film Accattone, and you can see a mural of his eye high up on a wall on Via Fanfulla da Lodi, keeping watch over his old neighbourhood. The work is by local artist Maupal and is called The Eye is the Only One that can see the Beauty, after one of Pasolini's poems.
Along the Isola Pedonale – the pedestrian-only section of Via del Pigneto that is filled with bars, cafes and outdoor restaurants – is a pop-art piece by Solo of a couple on a motorbike. Pigneto is known in Roman street art circles as the home of the stencil, mainly due to Sten & Lex, who were pioneers in the field.
Everywhere you walk in the quieter backstreets you'll find stencilled works on the walls by a huge array of artists. Wander to the eastern edge of Pigneto to Via Antonio Tempesta, on the border of Tor Pignattara, and you'll spot Coffee Break, a whimsical work featuring a man in a garbage can drinking a cup of coffee – it's reportedly the largest mural in Europe.
While you're here: No visit to Pigneto is complete without an aperitif or a meal at Pasolini's favourite watering hole, Necci dal 1924, which has a lovely garden terrace festooned with fairy lights.
TOR MARANCIA
You won't find Tor Marancia in any tour guides to Rome. It has historically been a disadvantaged, down-at-heel neighbourhood. It is, however, home to Rome's most ambitious and impressive public art project, Big City Life. In 2015, 22 artists representing 10 countries were commissioned to transform a public-housing project, where 500 families lived, into an open-air street art museum. They had just 70 days to execute these gigantic works.
Using the apartment tower blocks as their canvas, they transformed drab council housing into something beautiful. All of them are worth viewing, but highlights include the masked wrestlers of Argentina's Jaz, French artist Seth's giant rendering of a curious boy perched on a ladder of coloured pencil strokes, and Italo-American artist Gaia's surreal but stunning work that features a man, a fish and a mandarin in a blue sky. Australia is represented by Reka's abstract cubist piece Natura Morta (Still Life), and Guido van Helten's painting of a young girl gazing solemnly into the distance.
While you're here: Parco della Caffarella is one of Rome's largest parks and contains archaeological sites, a working farm and 78 species of birds and animals.
TESTACCIO
If you're looking for Rome's best food, then Testaccio, just southwest of the Colosseum and Forum, is the place to go. It was formerly the home of Rome's slaughterhouse, or Mattatoio, which has now been converted into architecture and music schools, an organic market and exhibition spaces, along with curated displays of street art which are definitely worth checking out.
A little further down Via Galvani is the area's best known public artwork – a 30m-high piece by Belgium's Roa called Jumping Wolf. The image does double duty – legend has it that Rome was founded by Romulus and Remus, who were suckled by a she-wolf, while the she-wolf is also the symbol of the AS Roma football team, which is based in Testaccio.
While you're here: Testaccio is home to an Egyptian-style pyramid, built in 12BC as the tomb of magistrate Gaius Cestius, and right next door is the beautiful non-Catholic cemetery, where English poets John Keats and Percy Bysshe Shelley are buried.
Originally published as Modern art engulfs centre of the ancient world
Source link