[ad_1]
State Farm won't sell new home insurance in California
Can the state shore up the market?
By Ben Christopher and Grace Gedye | CalMatters
State Farm made national headlines last week when it said it would stop selling new home insurance policies in California. As California's largest single provider of bundle home insurance policies — the company had 20 percent of the market in 2021 — the news struck some as the beginning of a fresh emergency, with insurers abandoning a fire and flood ravaged state.
But the retraction of California's biggest home coverage provider is only the latest development in a wildfire-fueled crisis that has smoldered beneath the surface of  the state's insurance market for years.
After the disastrous fires of 2017 and 2018, the number of Californians who were told by their insurer that their policy wouldn't be renewed jumped up by 42 percent to almost 235,000 households. The two severe wildfire years wiped out decades of industry profits.
Last year, American International Group let thousands of customers know their home insurance policies would not be renewed, and Chubb, a high-end insurer, said it would continue to non-renew some of its customers. 
And late last year, thousands of condo owners also found themselves among the uninsurable as the state's regulated insurers dropped suburban homeowner association members in droves across San Diego County's wildfire-prone shrubland. 
State officials emphasized that State Farm's current policyholders will not lose coverage.
Read more
Top Photo: A house burns on Platina Road at the Zogg Fire near Ono in 2020. (Photo by Ethan Swope, AP Photo, via CalMatters)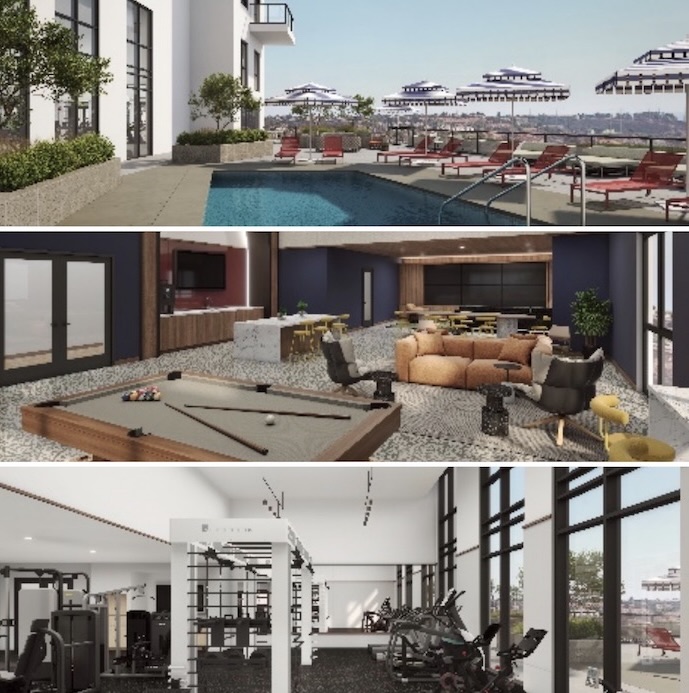 Holland Partner Group to open 'Ruby,'
its newest home development, for leasing
Beginning in June, Holland Partner Group's luxury apartment community in Mission Valley, The Society, will open its newest building for leasing. Named "Ruby," the addition offers 145 apartments, including one-, two-, and three-bedroom units along with townhomes and lofts.
The building has achieved LEED Silver certification, reflecting its commitment to sustainability and offering benefits such as reduced energy consumption and improved indoor air quality. The project was designed by Carrier Johnson + CULTURE with interior touches by Vida Design. The community amenities include a river-view pool deck, lounges, fitness center, meeting spaces, and complimentary WiFi. Residents also have access to the amenities at the nearby Town & Country Resort.
The Society will begin leasing homes in Ruby in June. To schedule a visit, learn more and stay up to date with the latest news, visit www.hollandresidential.com/ca/san-diego/the-society. and follow them on Instagram @TheSocietySD and on Facebook @The-Society.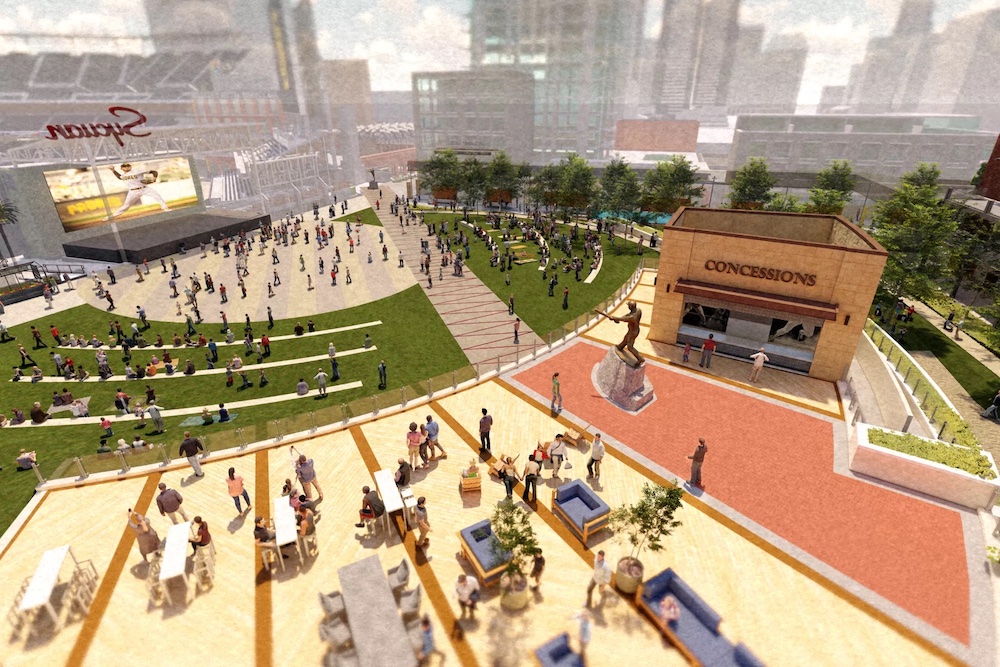 Padres planning a $20 million makeover
of Petco Park's Gallagher Square
With the 20th anniversary of Petco Park's inaugural season on the horizon, the San Diego Padres are working on a $20 million redo of the community park, game-day destination and concert venue known as Gallagher Square just beyond the ballpark's outfield walls.
The plan, unveiled Sunday, calls for a complete overhaul to the 2.7-acre recreation area that today includes a large grassy hill, a ball field for kids and a playground.
The Gallagher Square remodel, which is slated to get underway following the 2023 season, will relocate an upgraded kid's ball field to the northwest corner of the site. The change allows for an enlarged — and potentially more comfortable — concrete gathering area and sloped turf seating section that will face an all-new video board on the back of the batter's eye. An elevated platform, showcasing more prominently the Tony Gwynn statue, will be installed on top of the hill and include a viewing deck, tables and a concession stand.
Read more
Bikini-clad baristas to open
Goddess Coffee in Pacific Beach
Goddess Coffee, which markets itself as the city's first bikini barista coffee shop, is anticipated to open this week at 910 Grand Ave. in Pacific Beach.
Goddess Coffee will open in the plaza that also houses The Grass Skirt and Rubio's. The cafe will feature bikini-clad baristas serving an array of coffee and espresso drinks made with Fair Trade and organic beans from South Park's veteran-owned Seven Seas Roasting. There will also be grab-and-go food and pastries, as well as protein-infused beverages and mushroom coffee.
The business' mission is to inspire women everywhere to free their inner goddess; to love their bodies, embrace their sensuality, their natural beauty, and their divine feminine power within, according to the company's website.
2023 Congressional Luncheon
to be staged Friday at U.S. Grant Hotel
SAN DIEGO — San Diego Regional Chamber of Commerce will bring members of the San Diego Congressional Delegation together for a panel discussion at the annual Congressional Luncheon on Friday, June 2. This unscripted conversation will cover some of the most critical issues facing Congress and the policy and legislation that directly impact San Diego's business climate. The discussion will be moderated by Lisa Kay, Chamber Board Chair and chief operating officer at NV5. Location: U.S. Grant Hotel, 326 Broadway.
Dr. Ezra Cohen joins Curebound
as its first chief science officer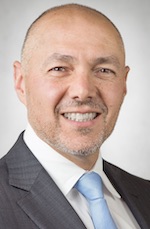 SAN DIEGO — Physician-scientist Dr. Ezra Cohen has joined Curebound, a San Diego-based philanthropic organization that raises and invests fund in translational cancer research projects, as its firs chief science officer. Cohen brings over 20 years of deep expertise in clinical care and translational research to the role and will help lead the strategic direction and expansion of Curebound research priorities to accelerate better outcomes for patients. Prior to joining Curebound, Cohen served as chief of the Division of Hematology-Oncology and associate director of clinical science at UC San Diego Moores Cancer Center.
City of San Diego to launch engagement
efforts for citywide cultural plan
SAN DIEGO — The City of San Diego will kick off June by hosting its first public events that will help shape the development of Creative City, the City's cultural plan,
which aims to align arts and culture with key priority areas including housing, mobility and infrastructure, sustainability and regional prosperity. Development of the cultural plan kicks off with a robust community engagement process to hear what San Diegans envision for their creative lives and to set a strategic framework for guiding the arts and cultural sectors. All San Diegans are invited to attend the first family-friendly Creative City forum at the Soap Factory, located at 2995 Commercial St., on Tuesday, June 20, from 5:30-7:30 p.m.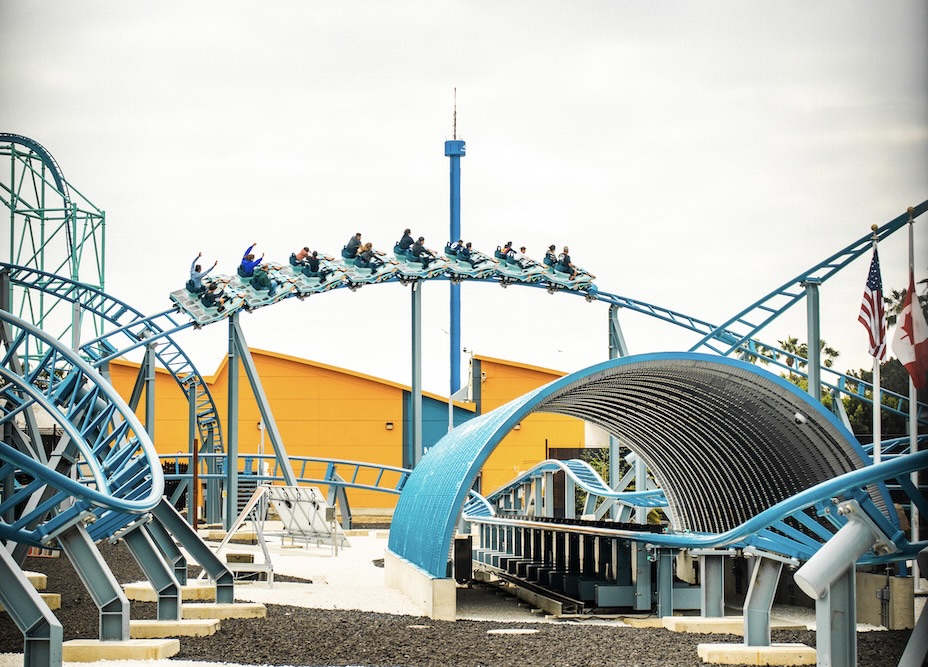 SeaWorld San Diego to open
all-new Arctic Rescue on Friday
SAN DIEGO — SeaWorld San Diego's all-new Arctic Rescue, the longest and fastest straddle coaster on the West Coast, will open to the public on Friday.  Named as one of the most anticipated coasters of the year by USA Today 10Best, this will be the sixth coaster to open at the Coaster Capital of San Diego following the immediate success of Emperor and Electric Eel, plus guest favorites of Manta, Journey to Atlantis and Tidal Twister. The ride will benefit nonprofit conservation partner Alaska SeaLife Center, to help raise awareness of arctic animals.
La Jolla Music Society awarded $40,000
grant from California Arts Council
SAN DIEGO — La Jolla Music Society has been awarded a $40,000 California Arts Council Grant to support its Community Music Center (CMC), providing free music instruction and instrumentsto underserved students. This is part of the CAC's Creative Youth Development program in its final round of funding for 2022 and will help to pay for instruments, music books, teaching artist salaries, and program management. La Jolla Music Society has operated the CMC, an award-winning afterschool music program, for more than 20 years. Based in Logan Heights at the Logan Memorial Educational Campus, the CMC is designed to increase students' self-confidence and resilience, while providing a safe and equitable environment for studying and creating music. 
Caliber signs enterprise agreement to
license Mitchell Cloud Estimating
SAN DIEGO — Mitchell International, an Enlyte company and leading technology and information provider for the property and casualty claims and collision repair industries, and Caliber Collision, the nation's largest auto collision repair provider, have signed a multi-year, enterprise licensing agreement. The agreement gives all current, and future Caliber locations access to Mitchell Cloud Estimating, Integrated Repair Procedures, a Paintless Dent Repair (PDR) Calculator and miScore..
CamerEye expands its AI Smart Pool System
SAN DIEGO — CamerEye is advancing the future of pool technology by expanding its artificial intelligence (AI) Smart Pool System to cover the entire pool lifecycle. The scalable system revolutionizes pool building and homeowner pool maintenance and safety, making it easier, safer, and smarter than ever before. Leveraging AI technology and visual intelligence, pool professionals and pool owners can be on the leading edge of innovation with CamerEye's AI smart pool system that adapts to their evolving needs, ultimately saving time, money, and ensuring pool care and safety.
Industry Tech Insights recognizes
Goal Solutions for innovation
SAN DIEGO — Industry Tech Insights, a unique digital platform featuring industry leaders across various areas of expertise, has recognized Goal Solutions as one among the "Top 10 Companies Revolutionizing FinTech in 2023" for transforming the industry with their unique solutions. Industry Tech Insights has become a pioneering magazine owing to their unique coverage of news, articles and industry leaders concentrating on transforming various arenas.
Rita Laeufle appointed chief medical
officer for Phanes Therapeutics
SAN DIEGO — Phanes Therapeutics Inc., a clinical stage biotech company focused on innovative drug discovery and development in oncology, announced that it has appointed Rita Laeufle, M.D., as chief medical officer. Laeufle has more than 18 years of experience in clinical development in oncology and will oversee the clinical advancement of Phanes' pipeline. Laeufle is a board-certified surgical oncologist with extensive experience in drug development in oncology across the pharma and biotech industry. Prior to joining Phanes, Laeufle served as chief medical officer at Imugene Biotech, responsible for developing B-cell activating immunotherapies.
Christian Losch named CEO of Casa
Palmera Treatment Center in Del Mar
DEL MAR — Discovery Behavioral Health Inc., an expanding network of evidence-based mental health, substance use and eating disorder treatment centers, has named social services executive Christian Losch as CEO of Casa Palmera, a residential and outpatient behavioral health treatment center located in Del Mar. He previously served as CEO of Pinelands Recovery Center in Medford, N.J., also a DBH treatment facility and will continue to report directly to Jennifer Carvalho, president of Substance Use Disorder Division.
Losch has worked in substance use treatment for 17 years. 


[ad_2]
Source link